Aromatic scent brings a calm and comfortable environment. We provide professional high-end intelligent aromatherapy machine program, 14 years of experience in intelligent hardware development, creating more value for customers.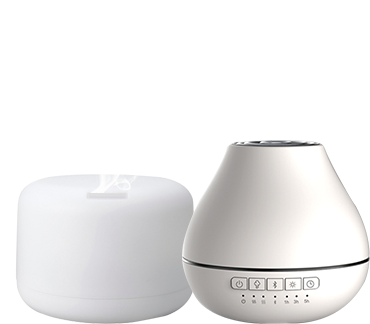 Support Amazon Echo,Google home,TmallGenius to turn on/off, fog, timing, color,brightness, and ambient light settings.







Supports mainstream voice assistants to control aromatherapy fog and atmosphere lamp colors.
Alexa, turn off Alexa, set name to green
Alexa, set to large spray mode
Alexa, set to small spray mode
System frequency
Using a single-chip solution that can automatically hop through frequency, accurate frequency chase is achieved through software algorithms to keep the atomizer efficiently operating, reducing unnecessary power consumption and circuit board heating.
Automatic water detection
The system automatically calculates water shortages to prevent dry burning. The machine has a built-in buzzer, promptly reminds after lack of water, push notifications to the mobile phone App and automatically shuts down.
Easy to use
App interactive design is close to user habits, dedicated product design, so that different groups of people are very easy to use, at the same time, we also support multiple languages.
Colorful
RGB lights support 16 groups of ambient light modes and support individual color selection. Adjust the brightness and color of the aromatherapy lamp mode by sliding the color section of the APP.
Customization
Modular development, according to the customer's appearance mold and functional requirements, the rapid output of personalized customized programs to serve the special needs of high-end customers.
14 years of experiences
Cost control
Needs combing
Industry leading technology
Reliability test
Quick feedback
Housing structure